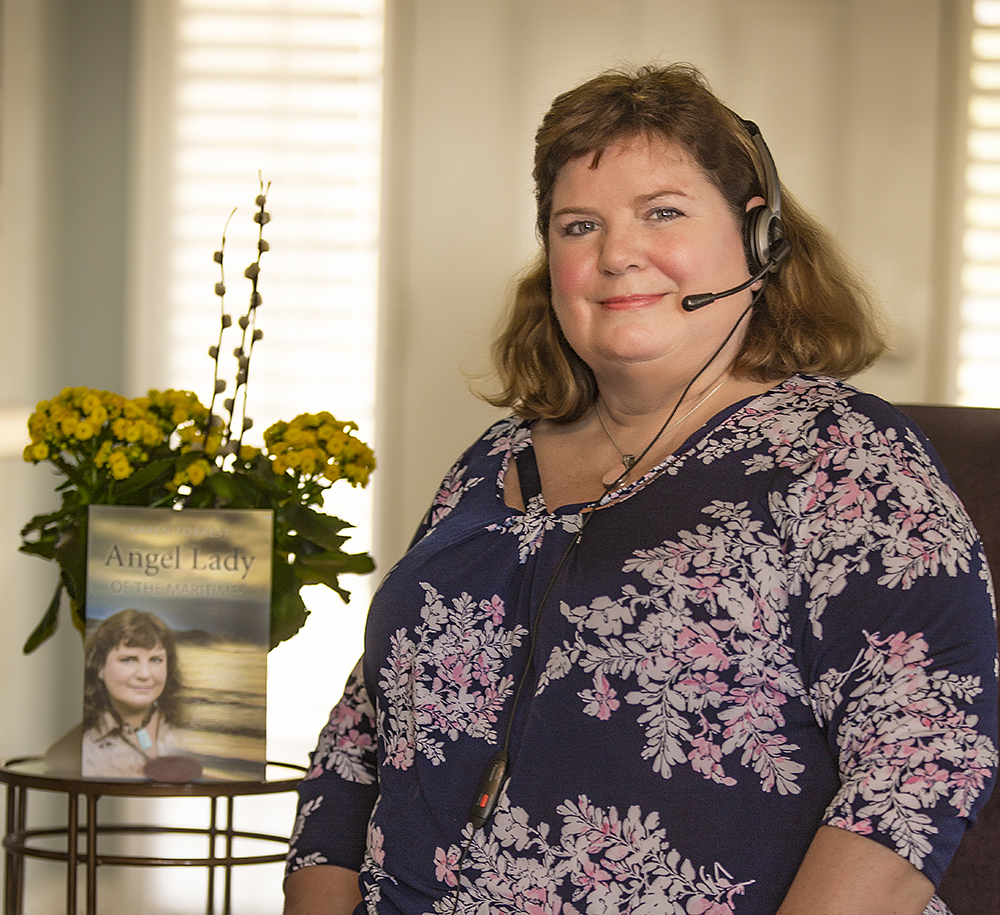 Telephone Sessions Available
You don't have to see Karen in person to have a private angel or medium reading. Most of her private sessions are done by telephone!
How can she receive messages without you being in front of her? It is all about intent -Karen asks the angels & your heavenly loved ones to communicate and they do. She doesn't need you in front of her to receive their loving messages. There is NO difference in quality of session if you have a telephone session or see Karen in person. Karen is professionally trained to offer telephone sessions and has been doing so for over 15 years. She is experienced!
It's a convenient way to quickly schedule a session -usually Karen schedules you in within two weeks. You don't have to wait long.
What questions would you like to ask your angels? Who in heaven would you like to communicate with?
Book your private angel or medium session today!
Would you like to have a private session with Karen in person?
Home Office Cornwall, PEI, Canada
You can book a session to see Karen at her home office: 126 MacKinley Cres, Cornwall, PEI, Canada.
What questions would you like to ask your angels? Who in heaven would you like to communicate with?
Book your private angel or medium session today!
Angelic Guidance Event:
Oak Island Resort
**New Event**
9 May Saturday 2020 10am-4:30pm (POSTPONED: New Date Will Be Offered)
Karen is offering a fun angelic day at the beautiful Oak Island Resort! A popular event and great time to escape for a spring getaway!
This day focuses on spiritual, uplifting information -angelic guidance on popular topics such as: romance; life purpose; finances; increasing your psychic abilities; self-care; powerful meditations; obtaining peace and more!
Angels will speak through Karen on uplifting guidance to soothe your soul!
The angels have made it clear to Karen -they will decide that day what to talk about. Could be interesting & new -even for Karen!
Ronita Baird, PEI's Medium (www.ronitabairdpei.com ) will be our guest speaker. She'll talk for about 45 minutes on the amazing roles of Archangel Jophiel (the Angel of Beauty).
NOTE: Karen will not be able to offer private readings this weekend as she will be busy with her Angelic Guidance Event all day Saturday; talking to pirates at a bonfire Friday night and listening to live music & drinking on Saturday night! If you want a private session with Karen; contact her for a telephone session.
On Friday night (8 May), there will be a bonfire at 7pm. Anyone can attend. Karen will entertain you with Oak Island Tales! She'll invoke deceased pirates whom once roamed Oak Island area! What will they say about buried treasure and their lives as pirates?!
Oak Island resort offers LIVE entertainment music on Friday and Saturday night. Join Karen Saturday night as we have fun listening to music, dance & drink!
Want To Stay At Oak Island Resort?
Karen's paid event is on Saturday 9 May. This price doesn't include guestrooms. But she knows you love staying at Oak Island! Oak Island Resort is generously offering discounted room rates for Karen's event. The resort is currently under reservations (but you can still make reservations -Karen already has her oceanfront guestroom booked) and completely renovating the rooms!! Even the reception area is under renovation -can't wait to see the new look!
The resort has an indoor pool, spa, lounge and restaurant on site.
Guestroom rates are: $160.00 + HST for a landside guestroom and $170.00 + HST for an oceanfront guestroom.
Oceanfront suite is $220.00 + HST.
Call directly to make your reservations (902-627-2600) and let the reservation agent know that they're booking with the ' Angel Lady Event' to receive your group rate.
Time: Saturday 9 May 2020 (Mother's Day Weekend) 10am-4:30pm
Place: Oak Island Resort, 36 Treasure Drive, Western Shore (South Shore, near Mahone Bay) , Nova Scotia, Canada
https://www.oakislandresort.ca/
Cost: $124 +hst=$142.60 (This price is to attend Karen's Angelic Guidance Event on Saturday. Meals, guestrooms extra. Lunch not included; restaurant on site)
Register: Call Karen 902-367-6661 or email Karen.